Existing-home sales remained level this March while home prices saw moderate growth, according to a recent report by the National Association of REALTORS (NAR). Existing-home sales, which include recently purchased single family, townhomes, condominiums, and co-ops were down 0.2 percent to a seasonally adjusted 4.59 million units for the year.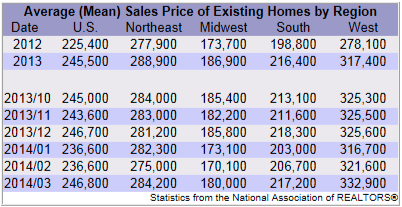 NAR chief economist Lawrence Yun expected to see more activity. "There really should be stronger levels of home sales given our population growth," he said. "In contrast, price growth is rising faster than historical norms because of inventory shortages. With ongoing job creation and some weather delayed shopping activity, home sales should pick up, especially if inventory continues to improve and mortgage interest rates rise only modestly."
Nationally, the median time for homes to sell was 55 days in March, a decrease from 62 days in February, and 62 days from March 2013. Thirty-seven percent of March home sales were on the market for less than a month.